To use the service you will need to register for an account. There is no cost associated with this. After initial registration you can access the Address Lookup management interface directly through your user account.
Your login has administration privileges allowing you to navigate around and manage any organisations and cost centres which you create, or to which you are invited. You can invite more users to become administrators, create one or more tokens for access to our Address Lookup APIs and clients, and monitor their usage.
Unless you are responding to an invitation, you will be asked to create an initial organisation. This will receive 10 free clicks automatically in a default cost centre to get you started quickly. Future clicks can be purchased from a number of datasets or you can contact us for additional test clicks.
Plans may be purchased either on-line, via the Shop button in the cost centre admin page, or by contacting Hopewiser.
When you purchase a plan, it will be associated with a single cost centre belonging to a single company.
Please note: purchases cannot be moved between cost centres or companies.
To make use of a plan with the Address Lookup APIs and clients, a token must be created within the same cost centre as the plan.
In the on-line shop you will see a list of available datasets: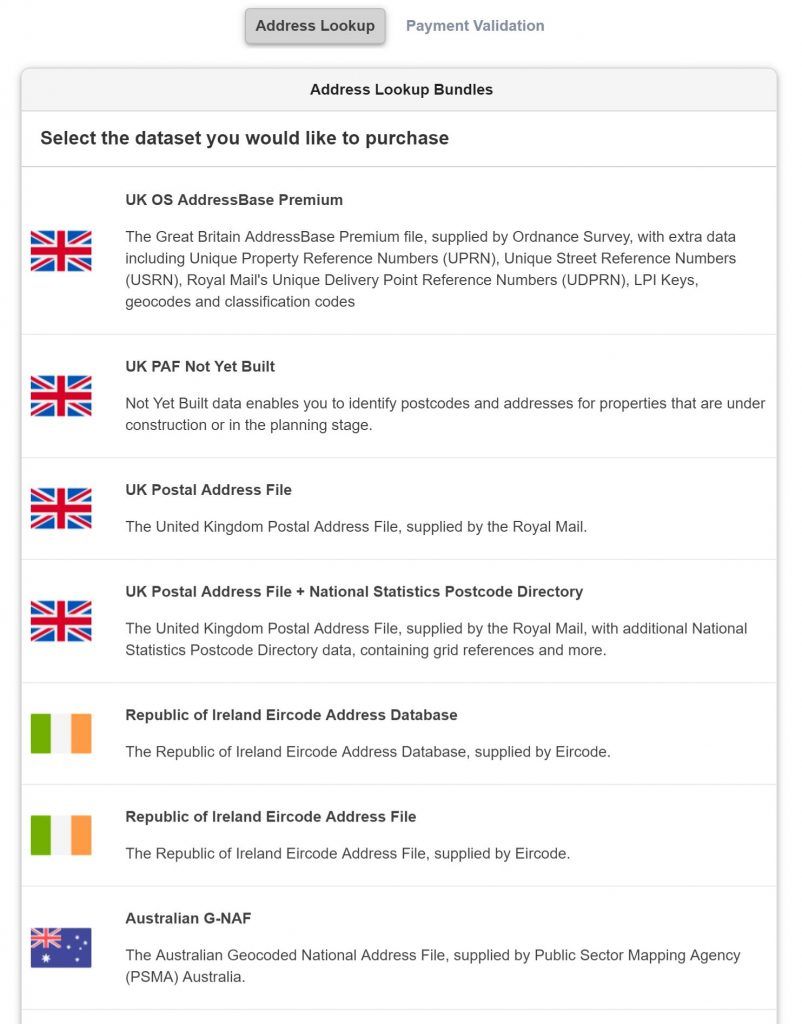 Depending on the chosen dataset one or more cost plans will be shown. Each plan relates to a licence agreement with the data provider. For the required plan (or plans), please select the desired click quantity, then click Add to Basket.
Your basket will show all requested plans and cost (excluding VAT). If you require another plan then click on Shop in the navigation bar to go back. To proceed select Checkout. This will guide you through the payment, via Stripe, provide an invoice and add your purchases to your cost centre.
Please note that on-line invoice information is only available for purchases made through the on-line shop.
The following datasets are available as standard by Address Lookup:
We also host a number of European datasets as well as North American Zip+4 data and can make arrangements for most address datasets. Please contact us to discuss your requirements.
Tokens are used to access plans via the Address Lookup APIs and clients, and you will need to create at least one for this purpose. From the Tokens tab of the cost centre, you can create and remove tokens:

Select a token in the list to see more information and edit the token.
When adding a token, only "Password" tokens are permitted in the Type field currently.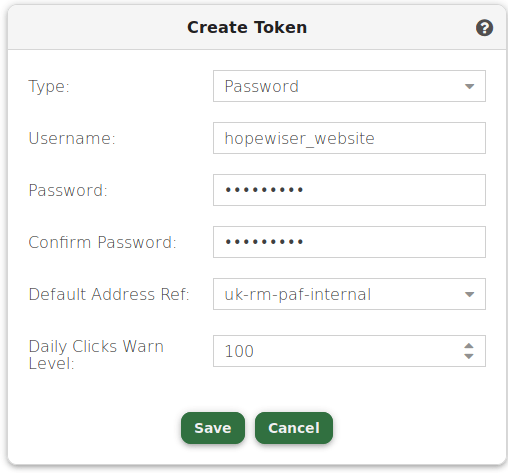 You are able to specify usernames of your choice, which will show in usage reports. Keep the password safe, since this is what controls access to the plans in the cost centre.
You can also optionally specify a default dataset reference (if none is provided to the API by the programmer) and a click warning level: once this threshold is reached in a day, a warning email will be sent to all cost centre and company administrators who have not disabled the warnings for their account (click on Home in the navigation bar, then on the Privacy tab).
The cost centre admin page Clicks tab gives a brief summary of plan usage.
Click on an entry in the list to report on usage by plan: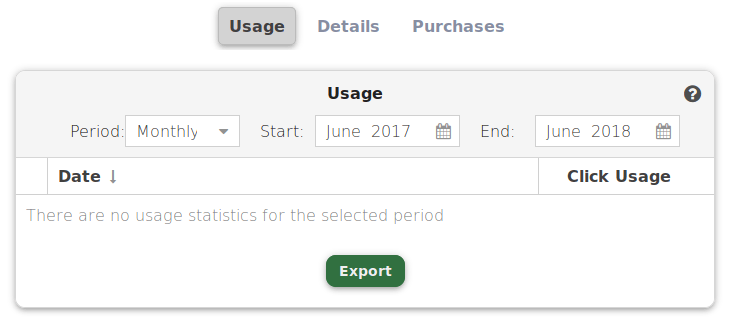 You can also see usage by token if you select a token from the Tokens tab.