Fifth gear, 70mph, set cruise control, tune into the radio, and relax. Wishful thinking! Have you figured out what we're talking about yet? That's right, the daily commute. Some love it, many tolerate it, whilst others hate it.
The average UK commute, according to figures provided by the BBC for the Independent, is 54 minutes. That doesn't sound too bad, does it? Then again, many routes involve motorways which subsequently involve high volumes of traffic. Overtaking, careless drivers, lane hogging, and the occasional unfortunate crash. Before you know it your 70mph cruising speed has suddenly come to a grinding halt.
We've taken a look at which are the busiest motorways in the UK. After all, we're all about location, location, location.
The Best and Worst
Unsurprisingly, the M25 is renowned as being the slowest UK motorway with an average speed of just 25.05mph, according to the Mirror. For those of you living along the London commuter belt will be all too familiar with the 117 mile-long orbital route. It is believed to have been the inspiration behind Chris Rea's 1980s hit "The Road to Hell".
Also featuring in the Mirror's list is the M4 with an average speed of 30.46mph. Running between South Wales and London, this motorway is a hive of activity with varying speed limits, a toll bridge, and was once home to a controversial bus lane.
The North of Britain also has its fair share of busy motorways, with the M602 having an average speed of 48.33mph. This motorway leads traffic into Salford, Greater Manchester.  Whilst it's shorter than most, it's linked to a number of major junctions including the M60 and M62, making it rife with commuters.
During the initial months of lockdown, however, a lot of motorway traffic disappeared with people either working from home or being furloughed. Research by TRL showed a general decline in motorway traffic between the beginning and end of March, which is highlighted in the graph below. The study explains the decline flow was generally higher on motorways that normally have a higher volume of traffic as opposed to those with lower traffic volumes. For example, the M1, M25, and M6, in comparison to the M56 and M602.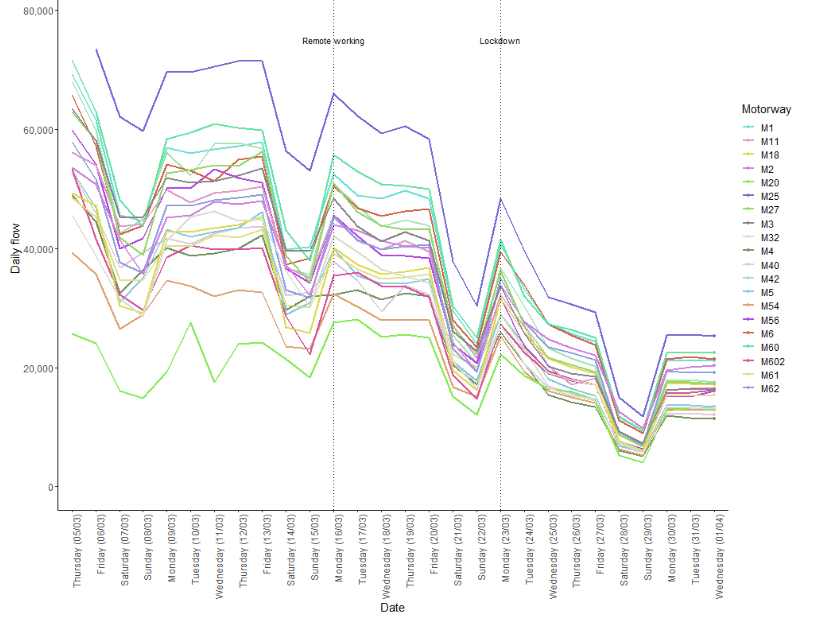 Credit: TRL
With restrictions now continuing to ease, a number of people have subsequently returned to work, which has been reflected in the increase of motorway traffic. BirminghamLive reported in May that the volume of traffic on the M5 had picked up significantly.
Britain's Favourite and Least Favourite
Setting aside the Mirror's motorway study, we came across another article from the Independent that explored which are Britain's favourite and least favourite motorways. Featuring in the top five favourite list is the M8 which runs between Glasgow and Edinburgh. Renowned as being Scotland's busiest motorway, it runs 60 miles in length and serves other large communities such as Livingston and Coatbridge. This makes it a viable route for commuters working in the capital and the surrounding areas.
However, amongst the least favourite motorways was the M6 which runs from the Catthorpe Interchange and terminates at the Gretna junction. As the UK's busiest motorway, the M6 passes several major cities including Liverpool and Manchester. It is a common feature on radio traffic programmes.
Additionally, the M56 is listed as one of Britain's most unpopular motorways. Also known as the North Cheshire Motorway, it runs through a large commuter belt that serves such areas as Chester, Helsby, and Warrington. Despite only running a length of 33.3 miles, it is notoriously crammed full with long-distance commuter traffic towards North Wales.
We love everything about location data. Did you know your customer address data that isn't verified against an up-to-date, reputable source will always lead to some inaccuracies when it's captured by your organisation. Capturing incorrect addresses inevitably means higher costs and lower return on investments: more parcel returns, undelivered mail, abandoned online shopping transactions, and frustrated customers who may not purchase from you again in the future. Capturing accurate addresses is easier than you think. Try it yourself for free with our online address lookup tool.
, updated 23rd July 2020.